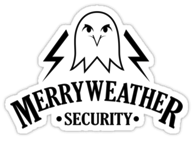 ---
Merryweather Private Security Contract Request
Merryweather offers top of the range Security Contracts to ensure your event runs as smoothly as possible with all of our employees fully licensed. The Department offers two different types of contracts, event and long term hire depending on your needs.
If you wish to hire Merryweather for your event or as personal security please fill in the below form and send to
Merryweather
with the subject: Merryweather Contract Request.
Format
: